.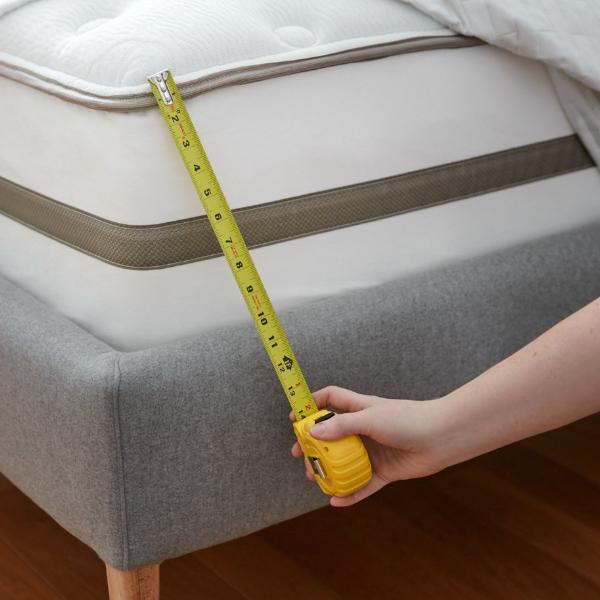 ON-SITE MEASUREMENT
You have decided to invest in the room that defines you the most, the one room that is solely for you. When you put that room together you want a finished product that looks like perfection. You do not want your duvet cover to fall awkwardly over the mattress or for your bedskirt to fall too short or too long. The solution? Measure twice, cut once...better yet, let TOILE measure for you. Rest assured knowing we are completely invested in making sure your linens are the perfect fit!
Our unique concierge add-on service is what sets TOILE apart and is the absolute best tool a designer can have! Give us a call 514-486-2424 or drop into the showroom to ask us about all the little ways we can make your project seamless and stress free! 
Caring For Your New Linens
Egyptian cotton sheets should be washed with mild bleach free detergent in warm (not hot) water. You should expect about 3% shrinkage for cotton sheets.
Machine wash, on gentle cycle, using cool warm water.
Remove from machine immediately, shake out and gently stretch to smooth wrinkles.
Launder whites and collars separately. Do not mix sheets and towels in the same load.
Do not use bleach or detergents with optical brighteners. Instead for whitening purposes, we recommend using natural alternatives such as vinegar or lemon juice mixed with water. The use of chlorine bleach detergent will yellow the fabric and reduce the strength of your bed linens.
Dry on select or tumble dry, and do not over-dry. Heat makes fabric brittle, damages the cluster of the cotton and causes excessive shrinkage.
If pressing is desired, take the sheets from the dryer when they are slightly damp.
Iron medium heat, the backside of the sheet to avoid damaging any embroidery details.
Washing Coloured Embroideries
Machine wash in lukewarm water with mild soap or detergent.
Fill the washing machine with enough articles to circulate freely.
Remove the articles immediately after the cycle is finished.
New leave damp embroidered items pressed together.
No bleach should ever be used.
If there should be any bleeding of a color, soak the item in a non-chlorine bleach solution such as Clorox color safe bleach, for 60-90 minutes and repeat the washing cycle.
Do not over dry the articles. Over drying reduces the life of your embroidered articles.
If pressing is desired, take the sheets from the dryer when they are slightly damp.
Delicate embroideries and laces must be ironed on the reverse side or between two clothes. Start is not necessary and is never suggested.
Ironing retains the shine of beautiful cotton sateen sheeting and the body of pure silk sheeting.